Welcome to the website of FRUTA Bohemia plc. company.
On these websites you can find products that will give your dishes something extra.
With our products your food will taste simply better!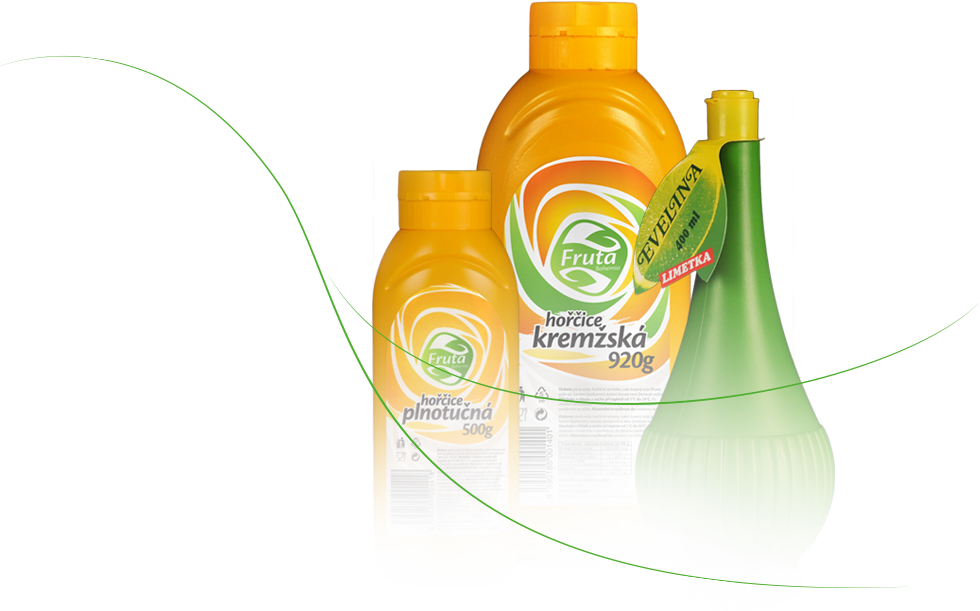 FRUTA Bohemia is a joint stock company founded in 1998 in the second largest city of the Czech Republic – Brno. The company continues in more than fifty-year tradition of production of high quality and delicious FRUTA mustard. Mustard is perhaps best known seasoning in the world. We offer classic full-fat mustards and wholegrain (krems-type) mustards, as well as a selection of different kinds of flavored mustards to satisfy the taste of each client.
FRUTA's production site moved into the premises in Přerov in 2001, where the company still produces mustard, but also processing fruit for concentrates and fruit juices or produces horseradish paste.
The company started to produce beverage concentrates in 2012 again. These high quality beverage concentrates are produced from different types of fruit: lemon, lime, cranberry… and recently we started to produce also 100% natural lemon juice from concentrate. The Czech Republic is on the top positions in Europe in the consumption of beverage concentrates, perhaps because concentrates offer a wide range of use in the kitchen, for example as a flavoring for tea and other drinks, or possibly as a flavoring suitable for salads, spreads and marinades.
Concentrates, as well as mustards, are available in a various kinds of packaging and sizes that will meet all clients' requirements.
The aim of FRUTA Bohemia company is to ensure a compliance with all food standards, so production is certified according to HACCP standard since 2004 and the company is regularly tested by customer audits according to BRC or IFS standards. We continue modernizing the production facilities and investing in new technologies, and also trying to expand and improve our production facilities in response to increasingly demanding market. All these steps guarantee a high quality standard of all our products.
The company currently manufactures products under its brands FRUTA, EVELINA, Happy Lemon and Citronka. We have also lots of experience in the production of private label products for our local and foreign clients. Don't be hesitate to contact us anytime in case you are interested in this area. We will be happy to give you our assistance.
New products in our product portfolio
Přerov, update 19.5.2014
Year 2014 brings a few changes to our product range. We significantly expand our portfolio primarily with mustard products.
At the beginning of the year we started selling a new line of flavored mustards in 255 g packages. 5 NEW flavors – dijon mustard, horseradish mustard, mustard with chilli & ketchup, barbecue mustard and mustard with black pepper – have really great feedback from the market so far. Therefore, we believe that the success of this new product line will continue.
The last product for this year is 100% lemon juice and this one is on sale since the beginning of 2014 already. 100% lemon juice should cover the market demand for 100% quality of beverage concentrates and we genuinely put lots of trust in this product.
Fairs
Přerov, update 12.5.2014
Our company is participating at the fair of Alimpex company in Prague (12.5. – 16.5.2014) and in Křtiny (19.5. – 23.5.2014). If you have a way around, feel free to stop by in our exhibition stand!

How to find us:
FRUTA Bohemia, a.s.
Tovačovská 1342, Přerov 750 01, Czech republic
Tel. č.  (+420) 581 706 086
Fax. č. (+420) 581 706 084
e-mail: objednavky@frutabohemia.cz
e-mail: marketing@frutabohemia.cz
Invoicing address:
Kojetínská 3881/84, Kroměříž 760 01, Czech republic
Identification number 255 37 237
Tax number CZ 255 37 237
Export department contact:
Jana Zrníková
gsm: (+420) 702 035 167
e-mail: zrnikova@frutabohemia.cz

FRUTA Bohemia, a.s.
veškerá práva vyhrazena © 2018